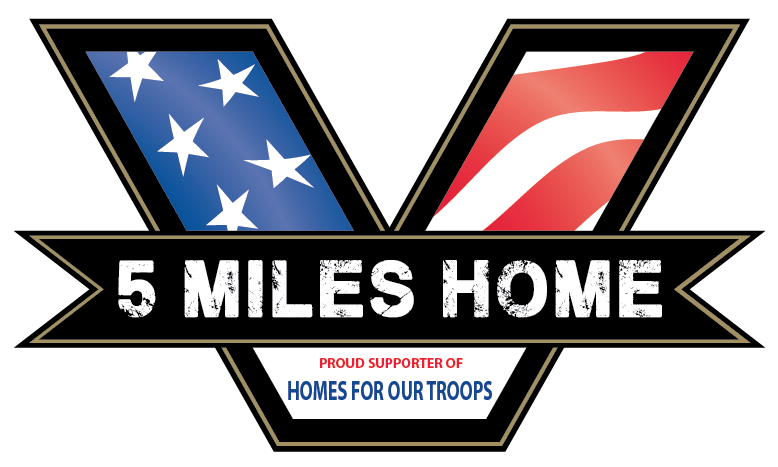 November 11, 2018 at 9:00AM
(pending permits)
Raynham, MA 02767

Saturday, 11/4/17:
10:00am-1:00pm- Early Bib Pickup at Marathon Sports in Mansfield, MA
12:00pm- Online registration closes
Sunday, 11/5/17:
7:30-8:45am- Bib Pickup and Day of Registrations
9:00am- Start of Race
#5mileshome
#proudsupporter
#homesforourtroops
#northeastracers
Come join us the Sunday before Veteran's Day for '5 Miles Home.' This 5 mile road race winds through the streets of Raynham and ends at our finish line festival full of family, friends, our generous sponsors and a pancake breakfast! All profits from this race are donated to 'Homes for Our Troops,' a Taunton based organization dedicated to building specially adapted homes for our severely wounded veterans.
Registration and Individual Awards
-Walk-up registrations welcomed!
-Chip Timed by Second Wind Race Timing
-Custom event bib and long sleeve tech shirt included*
-Medals and prizes to the Top 3 Females and the Top 3 Males overall
-Prizes to the Top 3 in each age division: 18 & under, 19-29, 30-39, 40-49, 50-59, 60-69, 70 & over (excluding overalls)
-All scoring based on 'gun start' times
-Team Awards: Eligible for Fastest and Biggest
Biggest Team-
The team with the largest number of participants registered before the close of online registration will be awarded with a tiny trophy and some major bragging rights.
Fastest Team-
To qualify, a team must be mixed coed or all female and have a minimum of three participants before the close of online registration. The fastest team will be scored with the total time of the top three performers of each team, including at least one female runner in the scoring. All scoring based on 'gun start' times.
We will be gathering goods, services and gift cards from local area businesses and raffling them all together as one prize. For every $5 additional donation made while registering, you will be automatically entered or you can buy tickets at the event. The winner will be drawn at conclusion of 5 Miles Home. Attendance not required.
Please feel free to contact us if you would like donate a prize to the raffle.
-Register online
-Custom event shirt included*
-Volunteer Perks, you can pick from the following:
1. Run this race in 2018 for free
2. Apply credit towards another Northeast Race Management event registration(s) before next year's 5 Miles Home.
3. Defer the credit towards the Homes for Our Troops
*Shirts and sizes guaranteed to all participants registered online before midnight, October 22, 2017. After this date, only the available sizes remaining will be displayed while registering. Any quantity of shirts available at the conclusion of the race will be available to purchase, while supplies last.