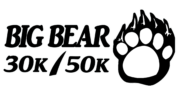 May 21, 2017 at 8:00am
DCR Massasoit State Park
1361 Middleboro Avenue
East Taunton, MA 02718

3 or 5 10K loops
Mixed fire lane and single track
Thursday, 5/18/17:
Early Bib Pickup- 5pm-8pm
Marathon Sports
287 School Street
Mansfield, MA 02048
Saturday, 5/20/17:
Online Registration Closes- 12:00pm
Sunday, 5/21/17: Bib Pickup and Day of Registrations- 6:30-7:45am
Start of Race- 8:00am
Facebook
Instagram
Twitter
#bigbear50k
#bigbear30k
#netrailseries
#northeastracers
New for 2017, the Big Bear 30K and 50K trail races are put on in cooperation with the Friends of Massasoit State Park, as well as the Massachusetts Department of Conservation and Recreation, and features just a sampling of one of our favorite trail systems!
Join us for the Inaugural Big Bear 30K and 50K trail race deep in the woods of DCR Massasoit State Park in East Taunton, MA. We've been hosting trail races on parts of this trail system for a few years now and wanted to feature some new sections. The Start/Finish are adjacent to Big Bear Hole Pond and the 10K course loops are a combination of the 5 Pond Trail, the Heart Healthy trail and a few others. You'll enjoy getting some separation on the wide fire lanes before winding through single tracks along the shores of Lake Rico and hitting the heart pounding hills near Lebaron Hill. Sound good? Now you just need to decide betwenn 3 loops or 5 loops?
*A portion of the registrations will be donated to the DCR Conservation Trust and earmarked for DCR Massasoit State Park projects.
-Online registration opens February 19th
$40 thru 2/28/17
$50 thru 5/19/17
$60 walk-up registration
-Custom event bib and tech shirt included*
-Medals, trail series swag and Marathon Sports gift cards ($50/40/30) to the Top 3 Females and the Top 3 Males overall in each distance
-Finisher 'Medals' for 50K finishers
-Scoring based on 'gun start' time
-Register online
-10 Spots Available
-Custom event shirt included*
-Volunteer Perks, you can pick from the following:
Run this race in 2018 for free
Apply credit towards another Northeast Race Management event registration before next year's Massasoit trail race
Defer the credit towards the conservation fund
*Shirts and sizes guaranteed to all participants registered online before midnight, May 7, 2017. After this date, only the available sizes remaining will be displayed while registering. Any quantity of shirts available at the conclusion of the race will be available to purchase, while supplies last.
2/11/17- Registration opens 2/19 at 7pm